Civil Air Patrol and Soaring in Georgia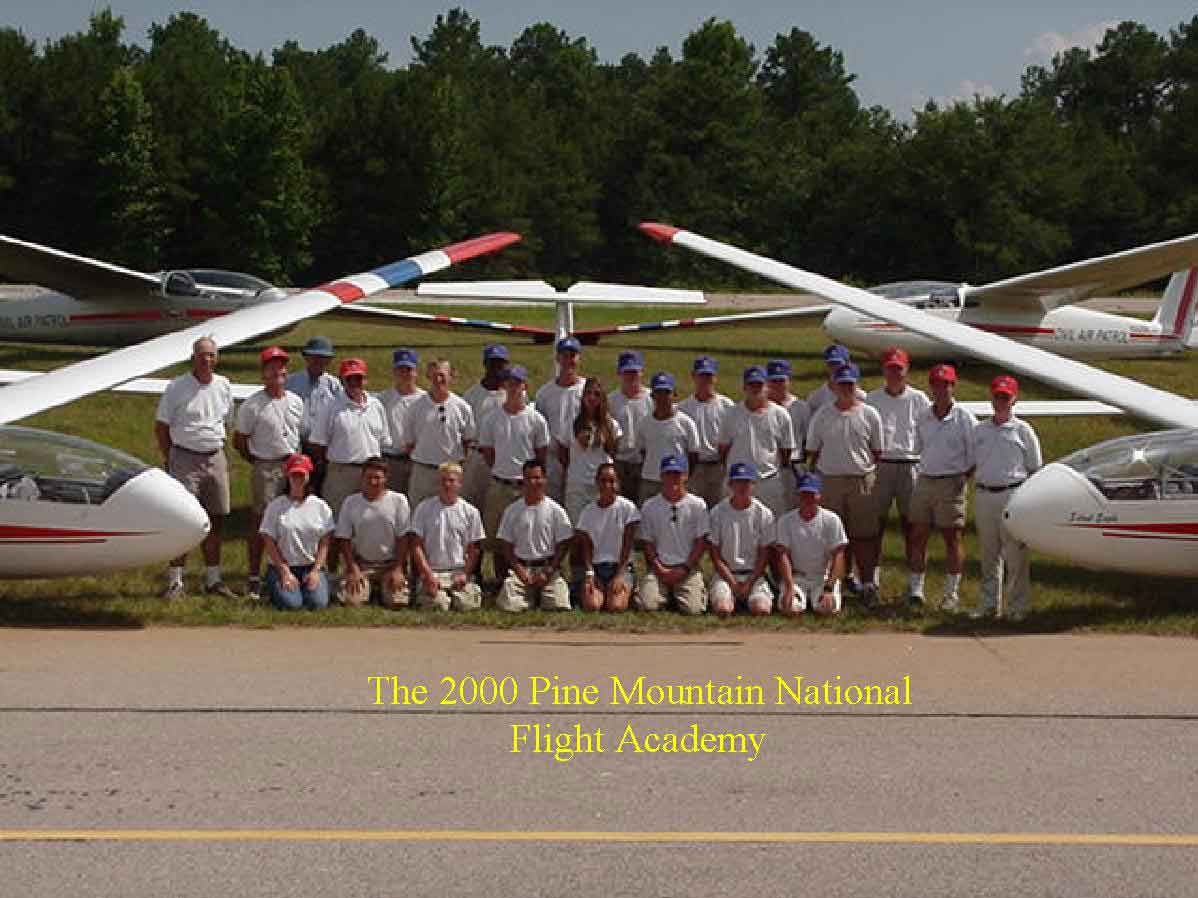 At the Soaring Society of America annual convention at Huntsville, Alabama in 1996, an announcement was made that an agreement had been reached between Civil Air Patrol and SSA to work together to make soaring flight available to the youth of America. SSA called on all of the State Governors to reach out to their respective CAP Wing Commanders to work in this direction.

The SSA Governor for Georgia was Charlie Meason, and he began to visit various squadron meetings around metro Atlanta. He received some positive response from members of the Lawrenceville, Ga. squadrons, especially Captain David Reynolds, and LTC Will Hargrove. Later, he met Capt. John Rudio , commander of the Winder, Ga. squadron. Rudio was highly receptive, and arranged for a dozen of his cadets to receive glider rides in the MGSA two seat aircraft one Saturday afternoon. A similar event took place at LaGrange, Ga., when Southern Eagles Soaring club gave winch launch rides to cadets from the Peachtree-Dekalb squadron. MGSA President George Nuse was enthusiastic, but concerned that the club could be overwhelmed by such enthusiastic kids descending on the club operations. Other members were openly opposed to non-members using the club equipment, so a better way needed to be found to accommodate the demand from these youngsters.

In January of 1997, Meason joined the CAP squadron at Winder, and soon met the Group 2 commander, Major Henry Hall. At Meason's suggestion, Henry approached Major John Sharp at CAP National Headquarters about the possibility of CAP providing a glider to the Georgia Wing to start a glider program. John was immediately supportive, and asked Meason to submit a formal request to purchase a new glider. After much deliberation, Meason decided that a Blanik L-23 would be a good ship to use in this program, and wrote a proposal around use of this model.

At the same time, Meason began recruiting MGSA members to work in the program. Michael Wegner was the first to volunteer, followed by Bill Provine, Hartley Falbaum, Wayne Hoover, and Tom Wyatt. Around this time Meason met Capt. Darrell Golliher who was at the time a member of the Gwinnett squadron, but was interested in forming a squadron in Monroe. Since it was intended that the glider program would operate from Monroe, all MGSA members joined this new squadron. Several member's children also joined, including Marcus Wegner, Andrew Provine, and Rachel Meason.

While all of this was going on, Meason and the other new MGSA/CAP members were meeting the CAP principals, whose support was imperative. Col. Ben Grove was the Georgia Wing commander, and it was his approval of this effort which got us over the first hurdle. From there, the CAP National Board's approval was necessary, as this was the first time an undertaking such as this was attempted. John Sharp was relentless in pushing our proposal through CAP channels. The proposal was sent through US Air Force channels, and even on to the Pentagon before it had all the necessary signatures. John Sharp finally notified Meason that an order had been placed with Vitek Siroky of Blanik America for a new Super Blanik L-23. He even sent along a copy of the check which had paid for the aircraft. In August of 1997, Charlie Meason, John Sharp, Henry Hall, Calvin Stribling, and his son Jason Stribling traveled to the docks at Charleston, SC to bring the new CAP Blanik home to Monroe, Ga.

While awaiting approval of the purchase, a new Georgia Wing commander took over, Col. Chris Franklin. Chris was totally supportive of our efforts, and it was his backing which encouraged other CAP members to volunteer to help us. Capt. Lyle Letteer, Lt. Jean-Pierre Guillaume, LTC Lep Babin, Capt. Charlie Clements, Major Jim McCloud, LTC Lee Arnold, LTC Shirley Arnold and others helped out in many ways. Around this time, LTC George Harrison, a retired USAF Major General, joined Georgia Wing, and asked to be a part of our program. Shortly after receiving the L-23, John Sharp received approval from Col. Glen Atwell at CAP headquarters to send us a CAP Cessna 182 to equip as a glider towplane.

In December of 1997, a formal rollout ceremony was held at the Monroe airport to show off the new L-23. Georgia Wing cadets had submitted suggestions in a "Name the Glider" contest. The winner would get the first "official" flight while the crowd watched at the rollout ceremony. The winning name was "Silent Eagle" submitted by cadet Daniel Carper of the Winder squadron. In January of 1998, the C-182 began towing operations.

The program was envisioned as a way to give glider orientation flights to cadets, and flight training. On nearly every weekend for the next several years, CAP cadets were flying thousands of glider sorties. In June of 1998, the first Glider National Flight Academy was held at the Pine Mountain airport. Fourteen cadets from around the country received glider flight training for 10 days. Charlie Meason was the Activity Director, assisted by Instructors George Harrison, Bob Davis, John Sharp, Lyle Letteer, Bill Provine, Hartley Falbaum, and Tom Wyatt. Jim McCloud gave ground instruction, and many others assisted in many ways. Towpilot Jeff Cloud started a long tradition of selfless volunteerism which inspires everyone who knows him. Chris Franklin and Jean-Pierre Guillaume rounded out the towpilot staff.

The program was used as a test program for CAP on a National basis. John Sharp used our activities to justify a request to purchase 20 additional gliders to be based all over the country. This proposal was approved, and the first of these new L-23s was delivered to Georgia Wing just in time for the 1999 Glider National Flight Academy at Pine Mountain. This time 22 cadets attended, and Meason had now become an instructor. David Mauritson of Tuscaloosa, Alabama joined the staff, as did towpilot Perry Vaughn of Columbus, Ga. The attending cadets named the new L-23 "American Spirit" at the conclusion of the event.

In the Fall of 1999, we began to talk about requesting a single place glider since we now had many cadets who had received their glider ratings, or were past solo. To keep the fleet standardized, we requested a Blanik L-33. Approval was granted to look for and buy a used L-33. We purchased Wayne Hoover's beautiful L-33, which was based in Atlanta already.

Another Glider National Flight Academy was held at Pine Mountain in June, 2000, attended by another 22 cadets. Jim Culp was a valuable addition this year. By this time, the people at the Pine Mountain airport had become close friends, and strong supporters of soaring and Civil Air Patrol. The arrival of the gliders and CAP cadets was a looked-forward-to event each June. What was really unique about the Georgia program is that after the National Flight Academies were over, the program continued year-round at Monroe. In order to make the gliders available to more cadets not close to Monroe, we started to aerotow the gliders to outlying locations and give flights nearer the cadets in remote areas. George Harrison, John Sharp, Charlie Meason, and Jean-Pierre made several of these trips.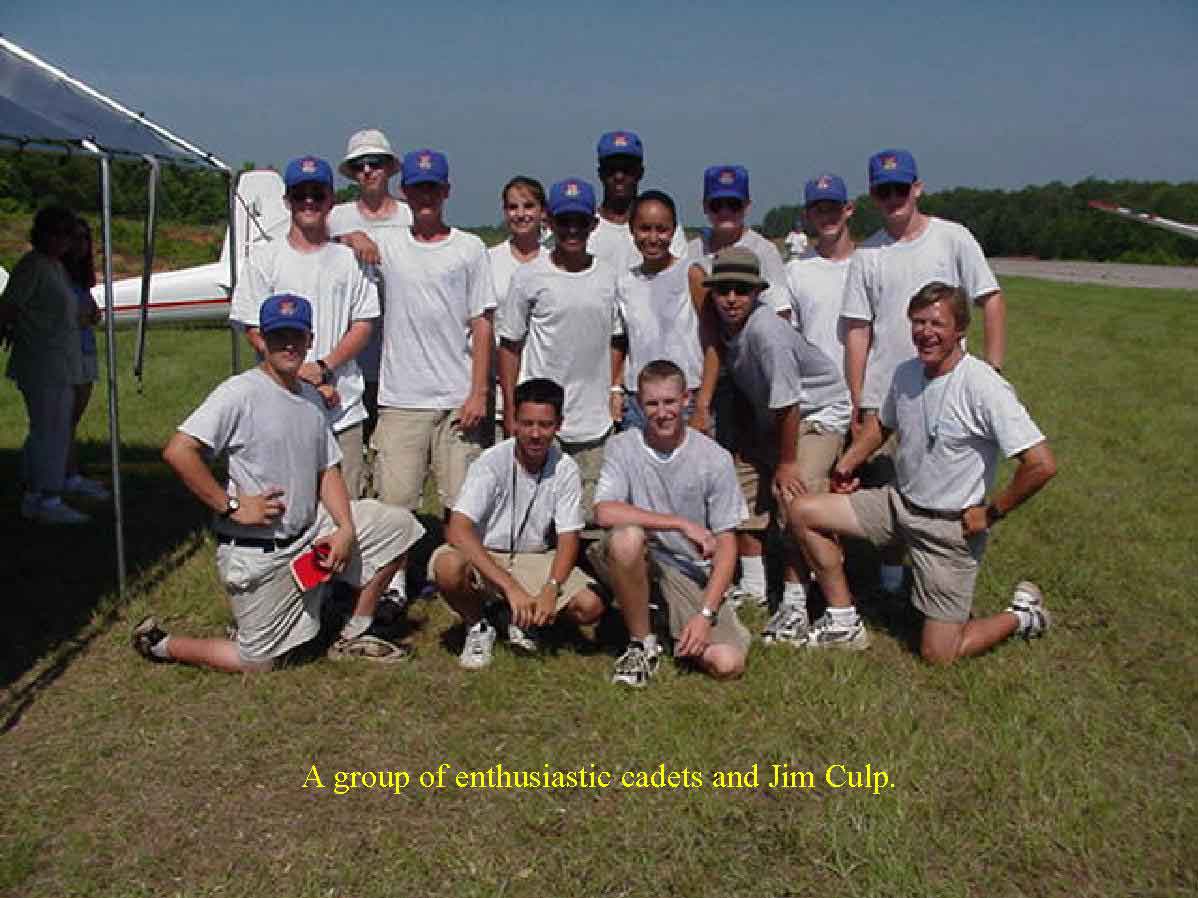 Back in Monroe, we had trained a number of cadets past solo, and several to their Private pilot ratings. Cadets Robert Kramer, Rachel Meason, Kevin Anderson, and Markus Wegner all earned their FAA ratings. Rachel Meason was Georgia Wing Cadet of the Year in 2000, as was Kevin Anderson in 2001. Kevin has gone on to the USAF Academy. All of these cadets are also MGSA members. In 2001, cadet George Sapp also joined MGSA. It could easily be demonstrated that the goal of getting more youth into soaring was working.

John Sharp had also been talking about buying "tow specific" aircraft to be used at all of the programs which were now sprouting around the country. It was decided to seek approval to buy new Maule MT-7-235 aircraft. Again, the CAP National Board approved the purchase of 15 of these aircraft, and the first was delivered to Georgia Wing in early 2001. In early 2001, the Georgia Wing Glider program fleet consisted of 2 Blanik L-23s, a Blanik L-33, a C-182, and a Maule MT-7-235. Charlie Meason stepped down as Director of Glider Operations in April, 2001. Chris Franklin assumed direction of the program, and continues it today.